THE SHIRT | rather plays the part of a light summer jacket in Karin Jordan's collection. It is the sensual and versatile collar solutions in contrast to the classically strict line that make the models so special. Band collars are typical, reminding of asian clothing.
Like the rest of the collection, the shirts are made of best quality materials that are easy to clean and crease-resistant and therefore easily fit into the mobile lifestyle of a modern woman.
KIMONO SHIRT WITH BOAT NECKLINE | The lightweight, airy feel of this shirt interplays with its precise details that testify of excellent craftsmanship. Accurately defined, decorative seams at the centre of the boat neckline underline the décolleté and make the shirt with Kimono-sleeves appropriate for every occasion.
KIMONO SHIRT WITH ROUND NECK | Particularly beautiful when worn by women with a small bust: accurately defined seams at the centre of the round collar highlight the significant statement of the Kimono-inspired cut. The shirt convinces through its lightweight, airy feel, as well as its precise details testifying of excellent craftsmanship. Truly a shirt for every occasion.
SHIRT BLOUSE WITH LAPEL COLLAR | A manly shirt, which is reinterpreted in a feminine way through a fitted waistline that "seems tight, without being tight". The classical look is dissolved through the addition of a lapel collar, which can be worn in a variety of ways, folded up as a stand-up collar or folded down as a blazer collar, making the blouse playful and highly variable. In addition, the long V-neck can be embellished with scarves and necklaces. This results in a "sumptuous minimalism".
SHIRT WITH BAND COLLAR | The impulse for this piece of clothing was to transform the rudiment of a child-bodice into a classic shirt. The clean-cut construction is broken up by thinly lined edges. This provides for an interplay between strict elements and finely crafted details. A double stand-up collar and a covered button row combine severity and coarseness in a minimalistic, almost gentle way.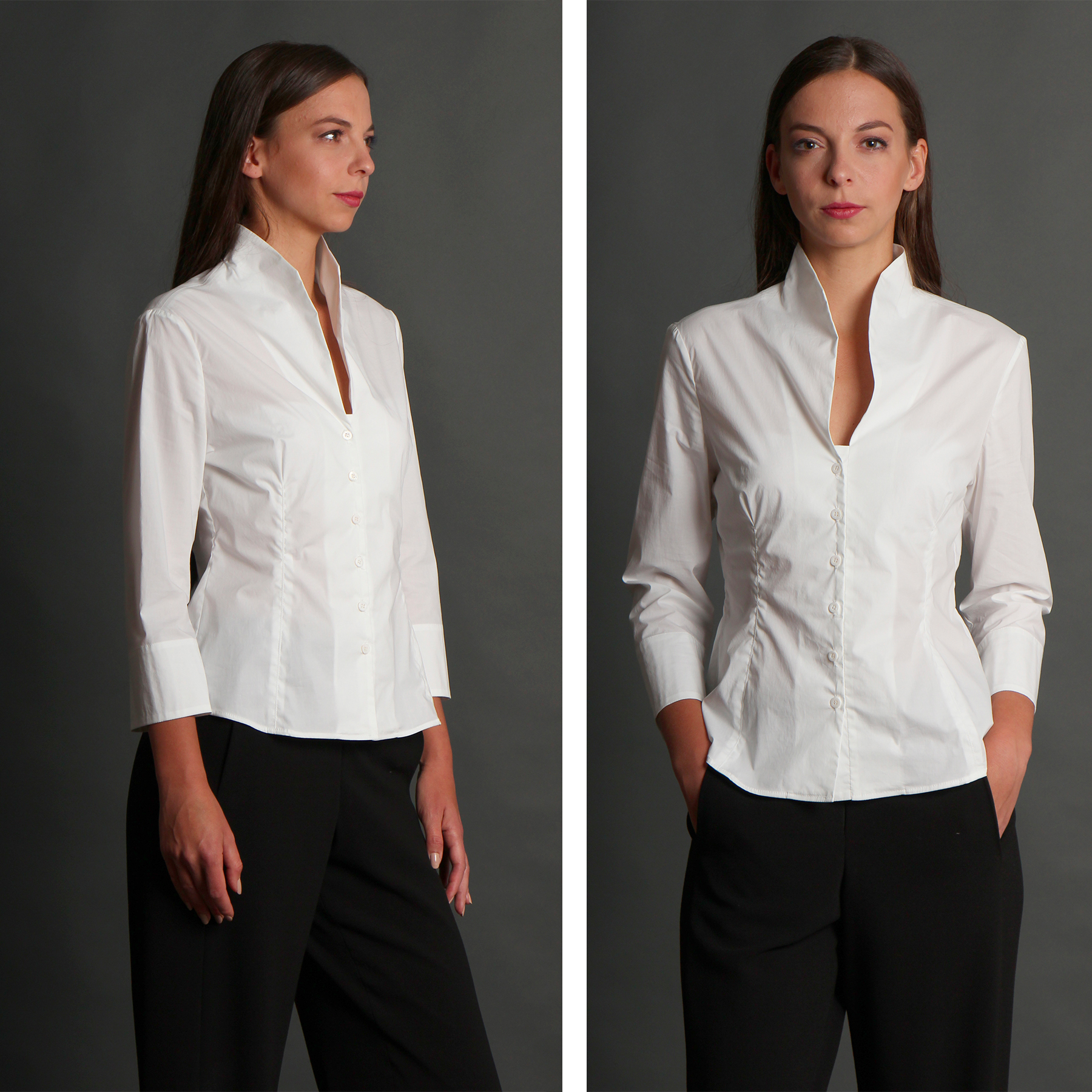 BUSTIER BLOUSE |